| | |
| --- | --- |
| | |
| | |






This memorial website was created in the memory of our communities loved one, Marcus Fiesel who was born in Ohio on June 01, 2002 and passed away on August 08, 2006 at the age of 4. We will remember him forever.





Marcus died the most brutal death I can imagine at the hands of his
foster parents. He was born and was to much for his mother to handle
so was placed in foster care, the baby suffered so much. He had Autism,which can be hard to care for with a child with this illness.
However when you are a foster parent. All you have to do is pick up the phone and have the agency pick him up. These creatures of earth
decided instead of taking him along on their family reunion in August,
they would instead wrap him and tape him in a blanket cocoon style,then taped the blanket. Such a s a cocoon. He was then placed upstairs in a closet in a playpen. The only parts of the body left out were his little feet and his head. They left Friday night and returned early Sunday morning, and baby Marcus was dead. Then the foster father and live in girlfriend, took the baby to a rural area in Brown County Ohio and burned his body in an abandon chimney, I believe they used two or three containers of gas to creamate him. They then took pillow covers and put what didn't burn in them. Those pillow covers were placed in garbage bags and tossed over a bridge in Maysville, Ky. God rest Marcus Fiesel. I am just a broken hearted Mom of five who thinks this baby needs a memorial. A broken hearted Mom who's son was stole by a drunk driver. Then these people think they can just discard this baby like trash. So sad for me.






Bless the child







The actual date of birth I guessed at because I do not know it. His death date I guessed at because nobody knows it. I know he was 4 had a birthday the summer before he was killed and turned 4. According to media. As far as his death there was not an autopsy, and he was left for 2-3 days, so I am not sure the correct date. But he does need to be remembered. You can read about his trial at www.wlwt.com.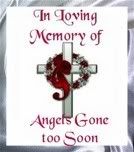 I would like to thank all the angels, who helped me
create this page, Quinn I Love the especially made for Marcus, it just makes him more special. Diane -Mom of Nicky White,Jana,
Dianne (AnnieHoo) the poem is beautiful!
And to all others that have taken time
to show this baby love, I know he watches down from heaven and
just wishes he could have had a bit of this love and attention
while he was here. God Bless to all of you and
the goodness in your hearts!
Thank-You
Cis M0M of Angel Chad Brill